Our regular fortnightly cleaning services include all cleaning materials and €75.00 (Based on a 3 hour visit).

Our regular fortnightly cleaning services include all cleaning materials and will focus on:

Kitchen
Clean outside of all kitchen cupboards; Lite Oven & range cleaning;
Clean outside of all kitchen appliances; Damp wipe all kitchen countertops; Sweep and wash hard surface floors.
Discale and clean sink, plug sockets, light switches, damp wipe window ledges, wipe down doors and radiator
Bedroom Cleaning
Bedrooms – Vacuum and mop ; Clean mirrors; Dust and wash window sills;
Clean outside cupboards and wardrobes, 
Clean outside of lockers, plug sockets, light switches,
Inside and outside of wardrobe doors & wipe down doors & handles
Living room Cleaning
Living room - Vacuum and mop, Clean mirrors, Polish table.
Clean and polish all surfaces, Clean pictures, clean down doors, plug sockets, dust down of lamp shades.
Light switches, Dust and wash window sill. Damp wiping and dusting of fixtures and fittings such as coffee table etc

Bathroom Cleaning
Bathrooms - Scrub and disinfect all of bathroom suite; 
Shower Glass , Chrome and Mirrors
Vacuum and mop
Clean down doors, Wash and cleaning of shower tray and shower glass.
Hallway & Landing
Hallway Cleaning- Vacuum and mop, plug sockets, light switches.
Clean mirrors, Picture frames, Clean down doors.

Utility Room
Utility Room cleaning of floors & presses including interior and exterior.
Cleaning of washing machine and dryer rims, handles and buttons.


Notes: 
While our housekeepers are flexible and will work around your requirements, please ensure our housekeepers have access to the areas that require cleaning. 
You can even provide a task list for our housekeepers and they will complete the tasks in your priority order during their visit. The housekeeper will attend these areas first and then revert back to our cleaning specification for the rest of your allocated cleaning time.
For safety reasons, we will not clean inaccessible exterior windows and we will require hot running water and electricity. 
Initial cleans may require extra time in order to do inside of appliance and other areas needing attention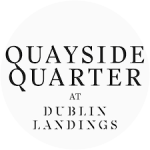 Quayside Quarter Dublin
★
★
★
★
★
☆
☆
☆
☆
☆
4.49 / 146 ratings
2 Bedroom Apartment - Fortnightly Clean
★
★
★
★
★
☆
☆
☆
☆
☆
3.5 / 4 ratings